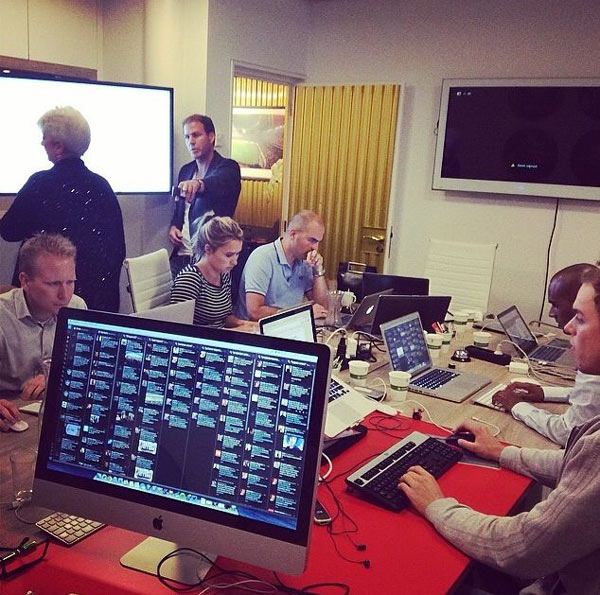 Tailored communications from the Mobility Room
On Friday evening, 30 May 2014, Marco Borsato performed at the Ziggo Dome while the Toppers played the ArenA, the Pathé Cinema was sold out and the streets were buzzing with late-night shoppers. Some 90,000 visitors thronged the ArenAPoort area. Facilities like the ArenA's Mobility Portal and Mobility Room ensured that everyone there could be guided properly and safely to and from the various events.
Situations like this are not unique, when several events taking place at the same time result in complex mobility issues. What is unique is the Mobility Room that was set up on that particular Friday night in the ArenA. 'It was an innovative experiment, providing visitors to the area with optimal information on the current traffic situation,' recalls Marco Gerrese of the Amsterdam ArenA.
One clear message
Information on traffic around event venues often confuses visitors because each venue dispatches its own bits of information. This causes unnecessary congestion and delay, says Gerrese. 'It's far more efficient to dispatch clear, unambiguous, personal information from one venue. Hence our Mobility Room experiment.'
Personal advice through various channels
That night in the Mobility Room, Gerrese and his peers from Ziggo Dome, Heineken Music Hall, ArenAPoort, Rocket, Mojo, Transelect, ID&T and the Municipal Department of Infrastructure, Traffic and Transport (Dutch acronym: DIVV) monitored various online media. 'Facebook, Twitter, Instagram, WhatsApp – we used as many channels as we could to give people up-to-the-minute info. For instance, we created an app group to inform visitors about a tailback on the A2 motorway and suggested an alternate route. All this was on a rather small scale, of course, but still, it was an important step towards Mobility Portal 3.0.'
Mobility Portal 3.0
Input from the Mobility Room pilot will be used as a basis for the new Mobility Portal 3.0. 'Our objective is to create a single platform that provides access to 100% of the available travel information on events in the area, ranging from train times and guided bus tours to reserving parking spaces and current traffic news. The goal is to proactively guide at least 60% of the visitors. If we can manage to reduce peaks in road traffic like this, we can reduce the number of tailbacks by about 10%. We plan to encourage visitors to take alternative modes of transport.'
Joint approach
Partnering all of the other organizations in the area is very important, emphasises Gerrese. 'At Q-Park on the east side of the ArenA, for instance, visitors can reserve a parking space in advance. So we can encourage them to take low-traffic routes to the stadium, to relieve other roads in the area. We can also avoid peak flows before and after events by extending the opening hours of hotels, restaurants and cafés in the area and by organizing side events. These are small examples of how we're pooling our resources to manage the influx of visitors.'