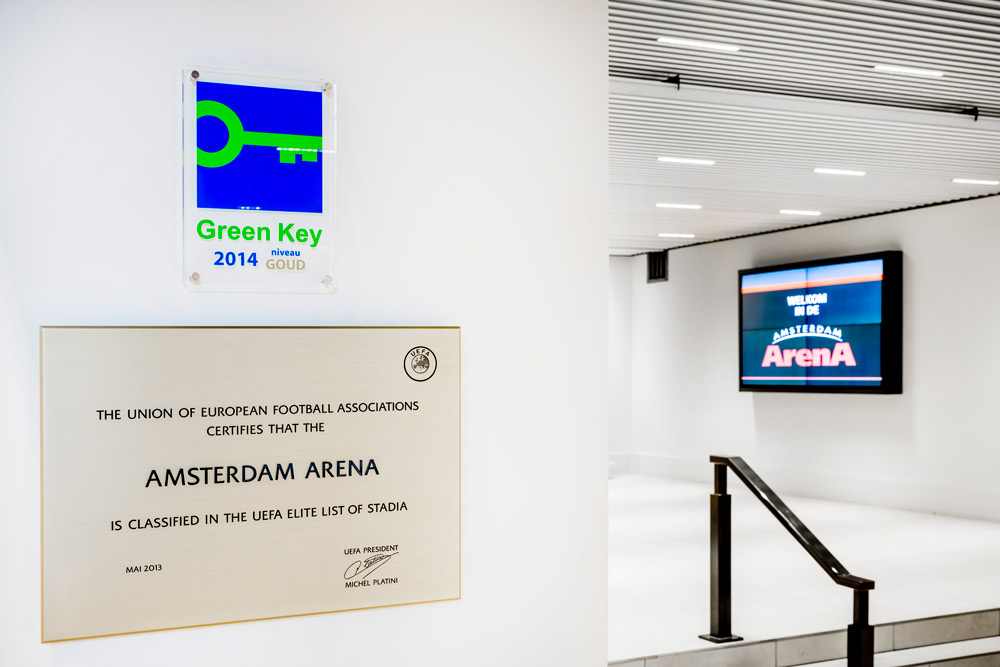 Golden Green Key: Evidence of sustainability
The Amsterdam ArenA's sustainability measures have paid off: the stadium has been awarded the Golden Green Key Certificate. The Golden Green Key is the highest tier of this international sustainability quality mark for tourist and business accommodation.
Gaining the Green Key Certificate proves that the ArenA meets strict standards for power consumption, transport management, water consumption, catering, cleaning and waste disposal (and separation), to name but a few. Organizations are required to implement a set of minimum measures to be awarded the Green Key Certificate. They can also take additional measures that determine the tier of the certificate: bronze, silver or gold. Implementing a large number of sustainability measures has won the Amsterdam ArenA the highest possible tier: the Golden Green Key Certificate.
Delivering concrete evidence
Frank de Leeuw of the Amsterdam ArenA recounts how they won the Green Key Certificate. 'It took us over a year of working behind the scenes. The Green Key organization demanded concrete evidence of the measures we had taken. For instance, we had to demonstrate that our improvement to the toilet flushing system really did reduce our water consumption. Our caterers and suppliers are a great support in this, providing us with certificates on paint, cleaning products, quality fresh vegetables and fish, for example. This is how we show that we're all in it together, that we're fighting for a common cause and that we're committed to sustainable waste management and sustainable procurement.'
Annual re-evaluation
The certificate the Amsterdam ArenA was awarded for the ArenA Business Club is valid for one year. 'There is an annual re-evaluation,' says De Leeuw, 'to check that we have maintained or improved our measures. Of course, we aim to hold onto our Golden certificate long into the future.'
Sustainable procurement criteria
Included in the strict Green Key standards are the sustainable procurement criteria. De Leeuw declares, 'Because we've signed long-term agreements with our suppliers, we can't change existing contracts overnight. When the contracts are due for renewal, we will definitely impose tighter sustainability criteria. This will lead to better, more sustainable products, a reduction in transport movements and a reduction in packaging materials.'
Green Key certification
Green Key is an international label. There are over 2,600 Green Key accommodations around the globe and over 600 in the Netherlands. In the Netherlands, the body responsible for assessment and evaluation of quality mark applications and awarding of certificates is the Foundation for Environmental, Safety and Quality Certification (Dutch abbreviation: KMVK).